16.09.2022
[2023] Where to Buy Wholesale Clothing for a Boutique
Considering the positive change in the clothing industry revenue in the last years, especially after COVID-19 pandemic, opening a physical or online boutique has become an attractive business.

Whether you are already a boutique owner or considering opening a boutique, finding your wholesale clothing vendors is crucial for your boutique's success. Purchasing wholesale clothing from a reliable vendor at the best prices can make your boutique grow easily. 

You can buy wholesale clothing for a boutique by attending fashion events, browsing online wholesale clothing marketplaces, visiting suppliers' websites, or exploring physical wholesale markets.

In this blog, we will not focus on the wholesale clothing websites or the physical wholesale markets, though, you can learn more about them by reading the related article. 

Let's look at the two options we have listed where you can buy wholesale clothing for a boutique:
Fashion Events
Online Marketplaces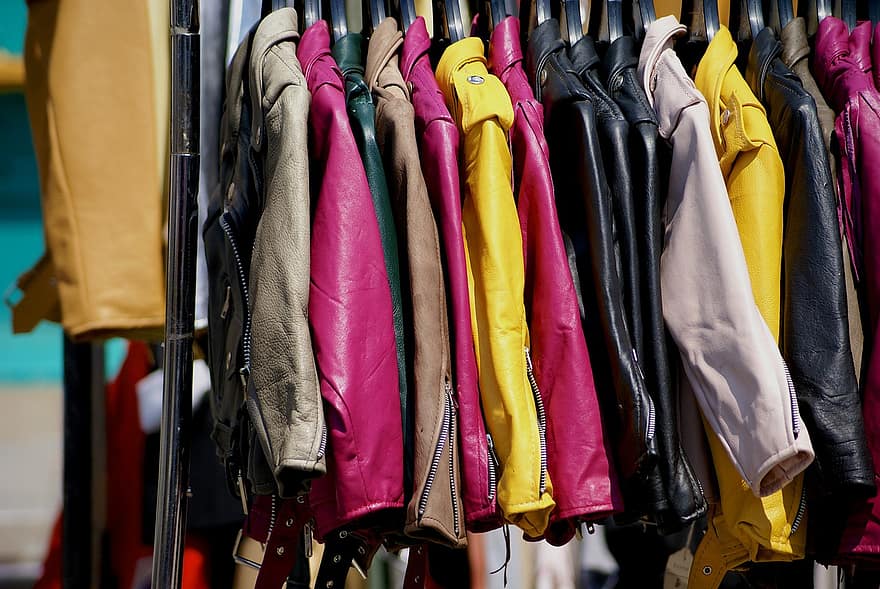 For example, you can explore fashion events that are taking place all around the US that give you the opportunity to meet with vendors providing you wholesale women's clothing. Other than physical events, you can go online and explore online marketplaces that can connect you with vendors.
Finding the best wholesale clothing supplier for your boutique is not easy and may require some work, but we are here to make your life easier. Here's a list of several places that you can get merchandise from for your boutique:
The Magic Show
Dallas Market Center
Atlanta Apparel
Lonca
Faire
FashionGo
Bulletin
LAShowroom
AnkorStore
Now let's explore each option individually:
Fashion Events
Pros:
Bargaining: The biggest advantage of buying wholesale clothing from a face-to-face environment is that you can lower the price with bargaining.
Tactile Experience: You can touch and feel every item from a supplier so that you will not encounter any surprises.
Cons:
High Spending: If you are willing to attend a fashion event, you have to consider the additional spending for the experience such as booking a hotel, transportation costs, and so on.
Tight Schedule: These fashion events follow tight schedules that only allow you approximately 3-4 days to visit for each exhibition. You must schedule your program according to them if you want to join a fashion event.
Here are the top 3 fashion events you can browse hundreds of wholesale clothing suppliers.
The Magic Show takes place in four different cities; Las Vegas, New York, Miami and Nashville. So you can pick one of them according to your schedule and location.

Magic Show is accepted as the most popular and glamorous fashion event. It is the biggest fashion show in the world that presents the industry's largest variety of trend-driven and new stylish clothes.
If you want to join this event, you can check their website.
Dallas Market Center is a campus that hosts exhibitions of different merchandise categories every year. Even though it is not as large as the magic show, many suppliers attend every year selling wholesale clothing.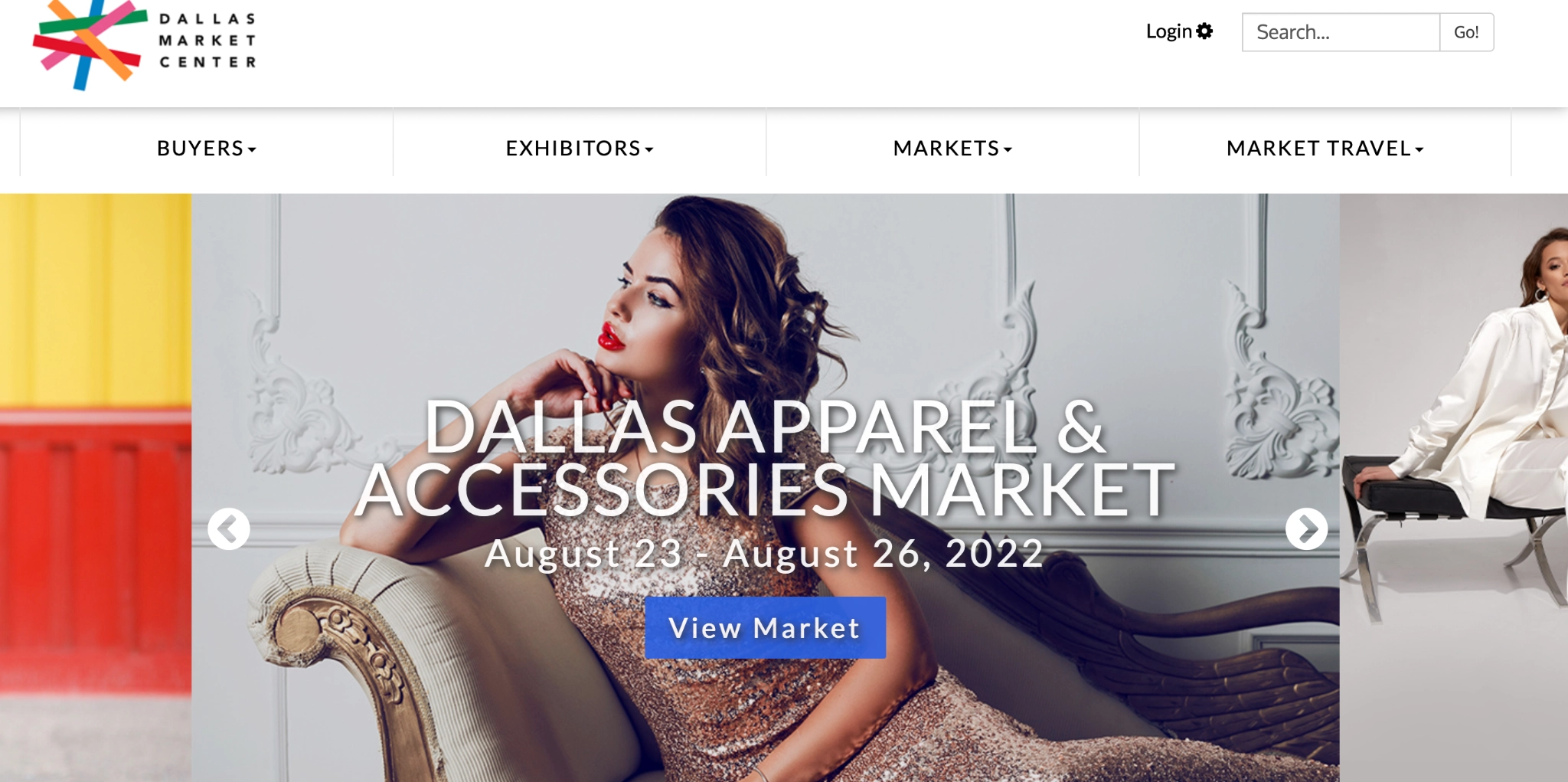 Over 200,000 buyers visit Dallas Market Center annually to meet with different vendors and exhibitors. The customers are from all 50 states and over 85 countries. They represent both small specialist shops and big-box merchants.
If you want to learn more about this trade show, you can click here to visit the website.
This fashion show takes place in downtown Atlanta three times every year. Atlanta Apparel annually organizes eight trade shows for wholesale buyers, exhibitors, and industry experts.

You'll find the most recent wholesale clothes trends here. See their website for more information.
We wanted to introduce the biggest fashion events. But, you can visit the full list of trade shows and fashion events here.
Online Marketplaces
Pros:
Less time and effort: You can buy wholesale clothing for your boutique from where you sit, by just clicking on the items and selecting the amount in seconds.
No additional spending: Unlike for fashion events, You do not have to spend additional costs for visiting and staying in a place.
Wide range of products: You can reach hundreds of vendors at a fashion event. However, there are thousands of them on the internet. You can find unique products that people can't find at the events.
Cons:
Lack of tactile experience: No touching, no feeling
Misleading item pictures: You buy wholesale clothing for a boutique by only looking at the pictures of the items; So there is always a risk of not getting what you wanted in the first place.
Here are the top 6 online wholesale clothing marketplaces you can browse hundreds of wholesale clothing suppliers.
Let's start with a bright and new online marketplace. Lonca was established in 2021 to guide small and medium-sized boutiques to buy wholesale clothing for a boutique from Turkey.
Strengths:
Unique products from Turkey: Lonca connects Turkish wholesale clothing suppliers, which you can't find anywhere else, and brings good quality clothing at affordable prices. If you want to learn more about why Turkey has the lowest price performance ratio check our blog post
Transparent Cost: Most wholesale clothing websites do not show you the shipping cost before you confirm the order. With Lonca, you do not have to worry about uncertain shipping costs or customs duties.
Free exchange
Consolidated shipping
No minimum order quantity
No seller's permit required
Weaknesses:
Limited number of categories
No buy now pay 60 days later
No free return
If you want to browse the Lonca's collection; you can check the website.
Faire is an online wholesale marketplace, placed in San Francisco that connects manufacturers and item makers with retailers. Right now, it is one of the most popular online marketplaces for both makers and buyers.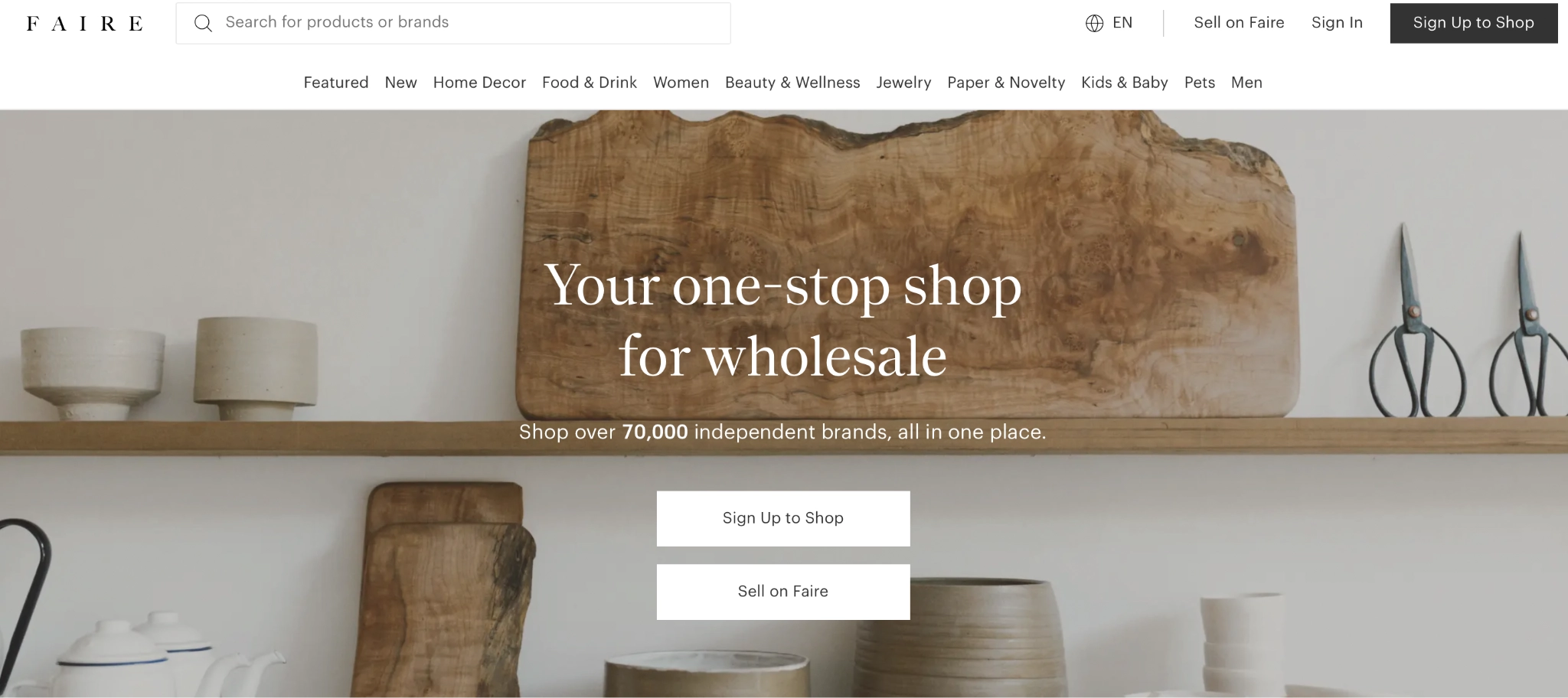 Strengths:
Buy now pay 60 days later
Free returns on all opening orders
Wide range of suppliers and categories
Weaknesses:
Separated shipping: Shipping time and cost changes brand to brand. If you shop from multiple brands, you have to pay shipping costs separately for each brand.
Min order quantity: MOQ changes from brand to brand. Some of them do not require an amount, however, there is an amount limit for many major brands.
Uncertain amount of shipping cost: You cannot see the shipping cost before approving the order.
Seller's permit is required
FashionGo is one of the leading wholesale e-commerce marketplaces. FashionGo has been the top global network for buyers and sellers to uncover new opportunities since its inception in 2002.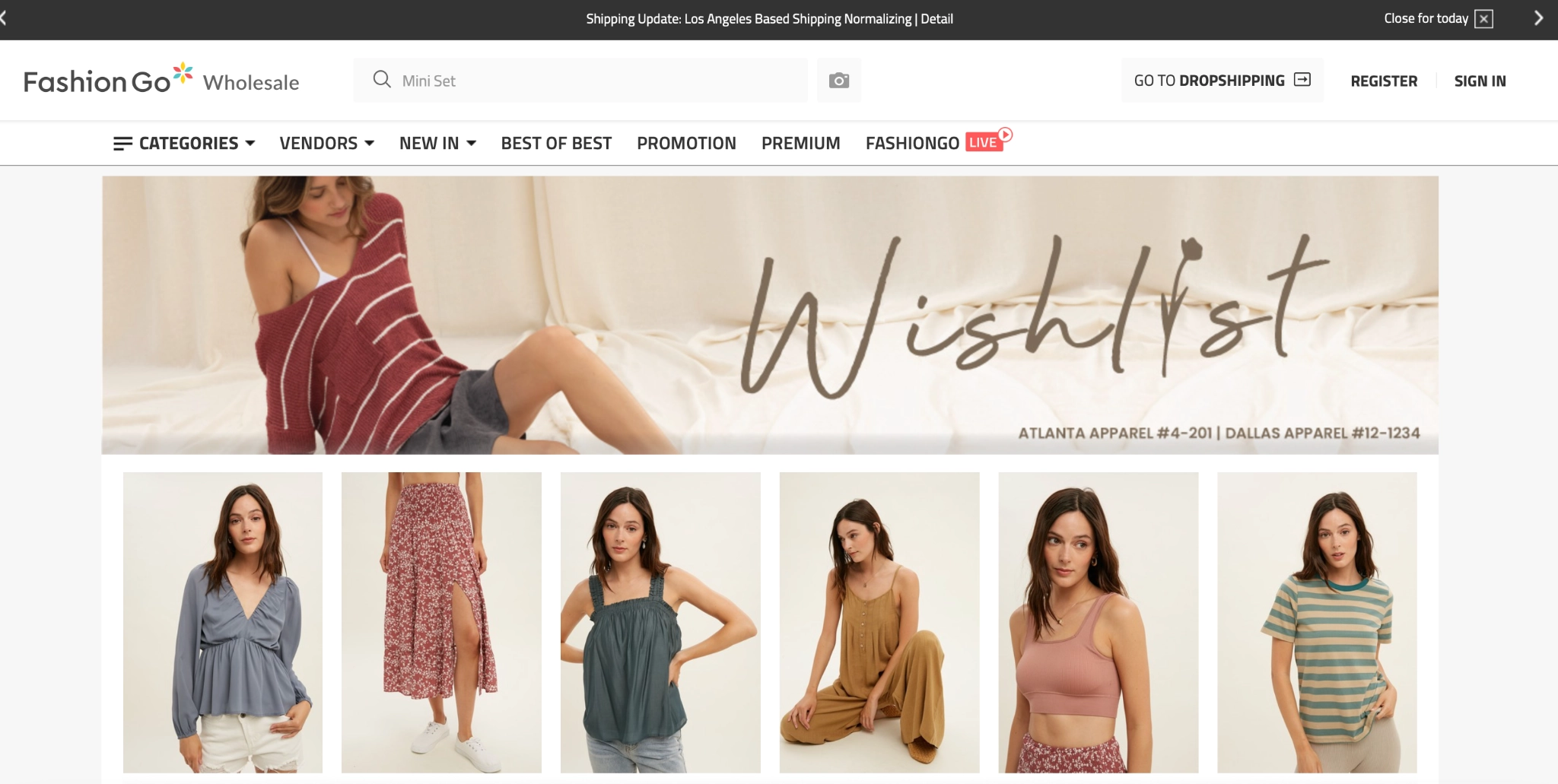 Strengths:
Consolidated shipping
Wide range of suppliers and categories
Cashback Points: You earn 1% points for every 1$ you spend. In other words, you get 1 cashback point for every 100$ you spend. Then you can change your points into cash (1pts=1$)
Weaknesses:
Uncertain amount of shipping cost
No free return
Min order quantity
Bulletin is a high-end commerce community where retailers can find, meet, and shop the world's top goods.

Strengths:
Unique suppliers & high quality: They prioritize the item's quality more than affordability when it is compared with other online marketplaces.
Referral program: When you join the Retailer Referral Program and refer fellow retailers to Bulletin, they give you $100 per each retailer.
Net-60 payment
Free shipping on first order
Weaknesses:
Higher prices: Since the wholesale clothing carries high quality and the marketplace differentiates itself as a more luxurious place, the prices are relatively higher.
Does not allow returns
Uncertain amount of shipping cost
Seller's permit is required
Separated shipping
LAShowroom is another online marketplace that allows registered buyers to place orders from a variety of suppliers.
Strengths:
Wide range of suppliers and categories
Consolidated Shipping
Coupons: You can earn a $100 coupon for every $10.000 you spend. In other words, there is a 1% cash back.
Weaknesses:
No Net-60 payment
Seller's permit is required
Minimum order quantity
Retailers who wish to provide their clients with a unique shopping experience and new products can use the Ankorstore marketplace, which has a product inventory of over 20,000 European brands.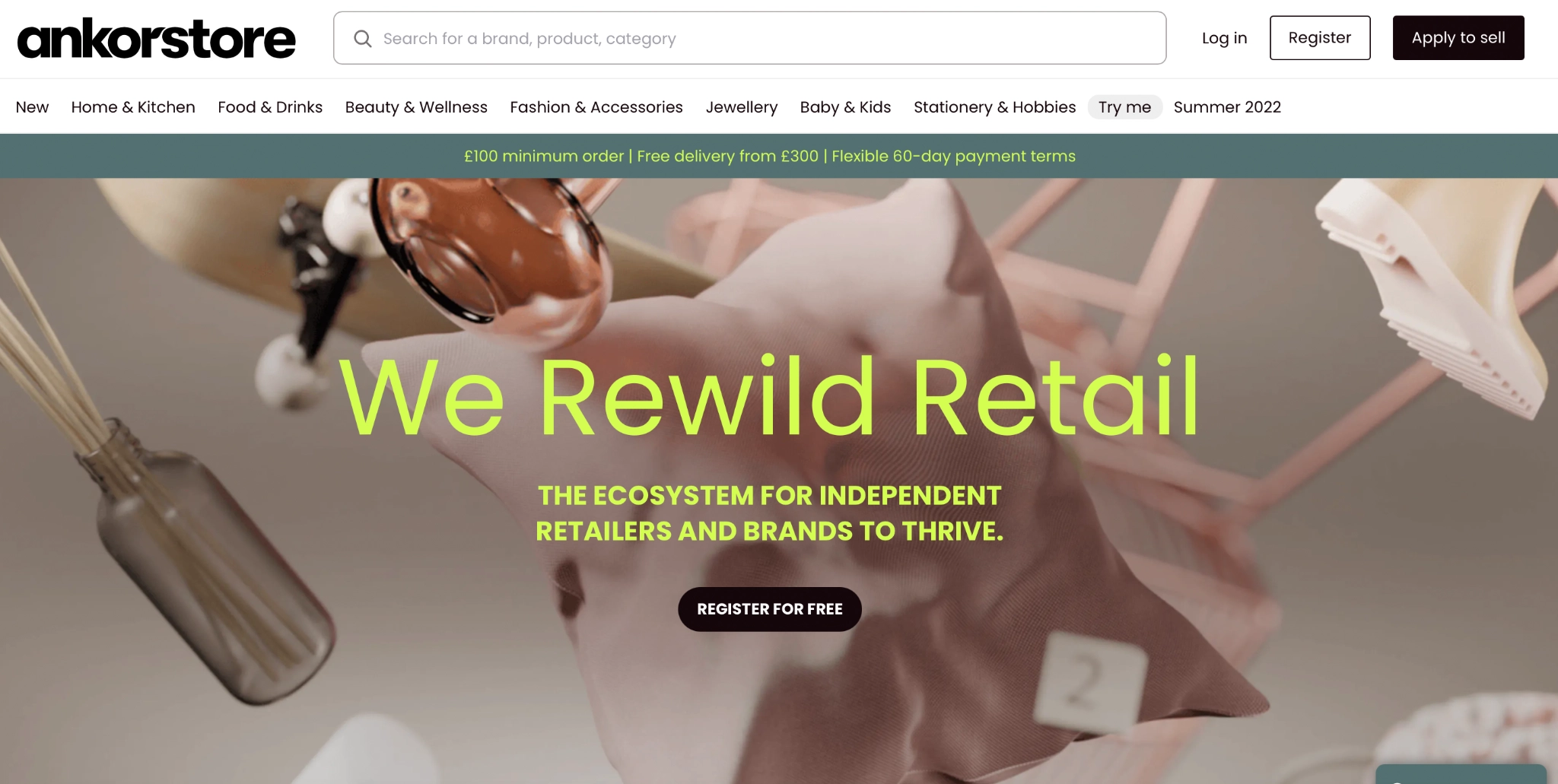 Strengths:
Wide range of suppliers from Europe
Net-60 payment
Free returns on all opening orders
Weaknesses:
Minimum order quantity
Seller's permit is required
Uncertain amount of shipping cost
Separated shipping
Where to Buy Wholesale Clothing for a Boutique?
In this blog we shared with you various options where you can buy wholesale clothing for a boutique.
If you want to be introduced face-to-face with the suppliers and bargain for the best deals, we recommend you to choose one of the fashion events that take place in different states in the US.
However, if you're already familiar with the wholesale clothing supplier, you can always prefer wholesale clothing marketplaces considering they can be beneficial in the right times.
To sum up, you can find products for your boutique from attending to fashion events, or by browsing online wholesale clothing marketplaces. Additionally, consider exploring physical markets in your city, or you can also directly find products for your boutique from the wholesale clothing supplier's website.
If you'd like to hear our opinion on this matter, we would definitely suggest you to shop wholesale clothing from online marketplaces. As Lonca, we are constantly in contact with our customers base consisting of boutiques, and we came to a solution where buying from online wholesale marketplaces is cost and time efficient for boutique owners since they can order directly from their home without having to visit physical stores and not making any additional expenses.